Overview
In 2023, the Illinois Attorney General's Office released the results of its 5-year investigation into child sex abuse by members of the Catholic clergy in Illinois.   Imaginary Landscape was engaged by the Attorney General to design the 696-page report and create an accompanying website.
Objectives
Create the aesthetic design for the report
Transform component documents and spreadsheets into a cohesive report
Create data visualizations
Build an accompanying website for ease of access
Deploy at the time of the press conference
Monitor results and report in real time

An excerpt of the 696-page report.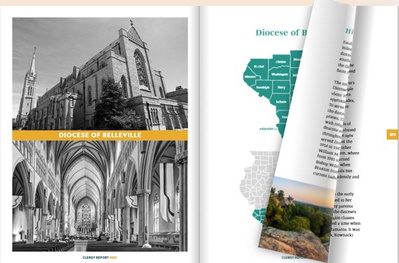 Approach
Create an overall design theme, including colors, photographic imagery and layout
Normalize data spreadsheets from each of the six dioceses
Build an accompanying website to promote keyword searching and related content
Test and deploy on dotCMS framework
Coordinate release to coincide with press conference
Configure Google Analytics GA4 to measure usage and downloads
The accompanying website designed for full screen and mobile users.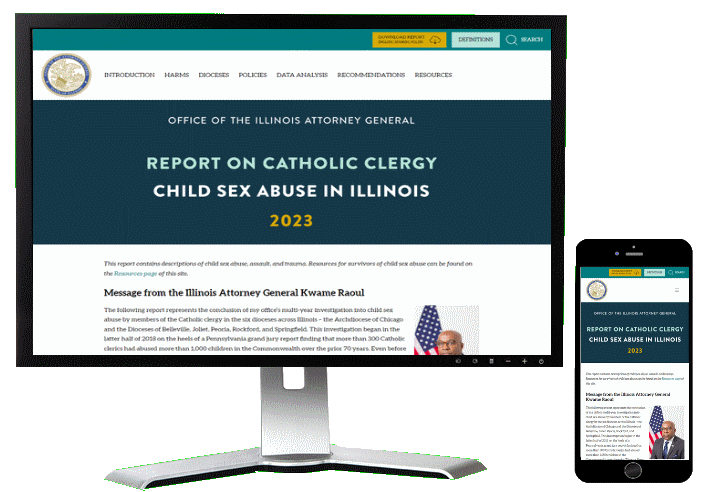 Results
Within 24-hours of the press conference, 31,104 people visited the website, spending an average of 5 minutes, 28 seconds on the site.  In addition 6,668 reports were downloaded.
Imaginary was insturmental in our ability to present these findings by producing a world-class report and website.

- Thomas Verticchio, Assistant Chief Deputy Attorney General